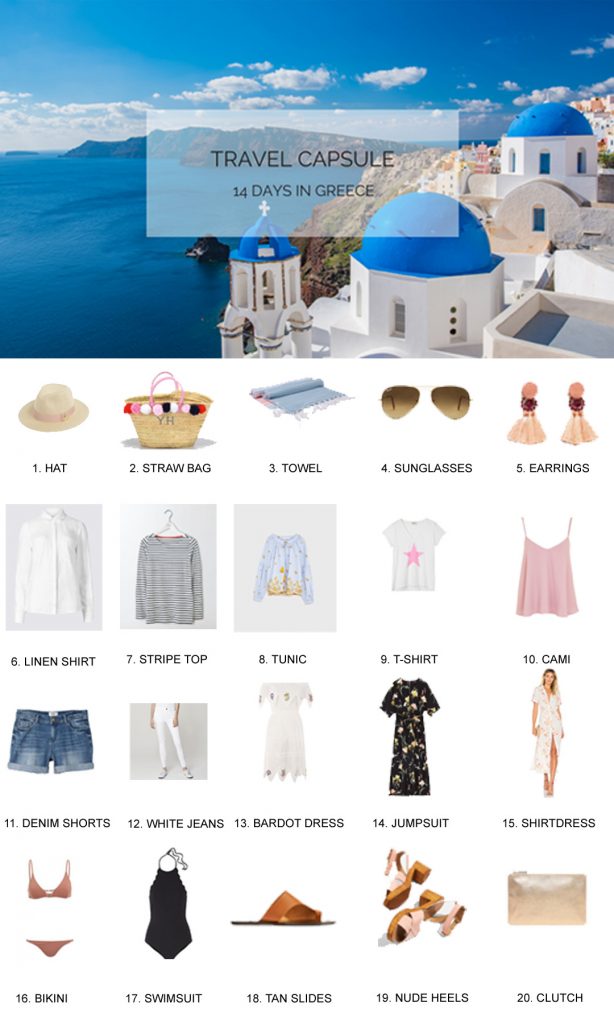 1.HAT / 2. STRAW BAG / 3. TOWEL / 4. SUNGLASSES / 5. EARRINGS / 6. LINEN SHIRT / 7. STRIPE TOP / 8. TUNIC / 9. T-SHIRT / 10. CAMI / 11. DENIM SHORTS / 12. WHITE JEANS / 13. BARDOT DRESS / 14. JUMPSUIT / 15. SHIRTDRESS / 16. BIKINI / 17. SWIMSUIT / 18. TAN SLIDES / 19. NUDE HEELS / 20. CLUTCH
Travel Capsule
I am excited to share my first travel capsule with you. This is similar to what I do for my client's as part of my virtual styling services, although theirs is much more personalised. I thought it would be fun to put together inspiration capsules on my blog as part of a holiday series, so the first one is an example of some versatile pieces you could take on a 14 day holiday to Greece. Use this for inspiration and adapt any of the pieces to suit your own style, body shape and holiday location.
The capsule has 20 pieces that can all be mixed and matched to make more than enough outfits for the duration of the holiday. I have stuck to a blush & blue colour scheme that works well with neutral colours like black, tan and white. Sticking to a colour palette makes it far easier to plan your outfits and means everything works well together. If like me you are now sharing packing space with the kids, then this type of packing really helps you take fewer clothes but gives you plenty of options to choose from.
I have put together some examples of how you could wear the pieces for different activities on the holiday.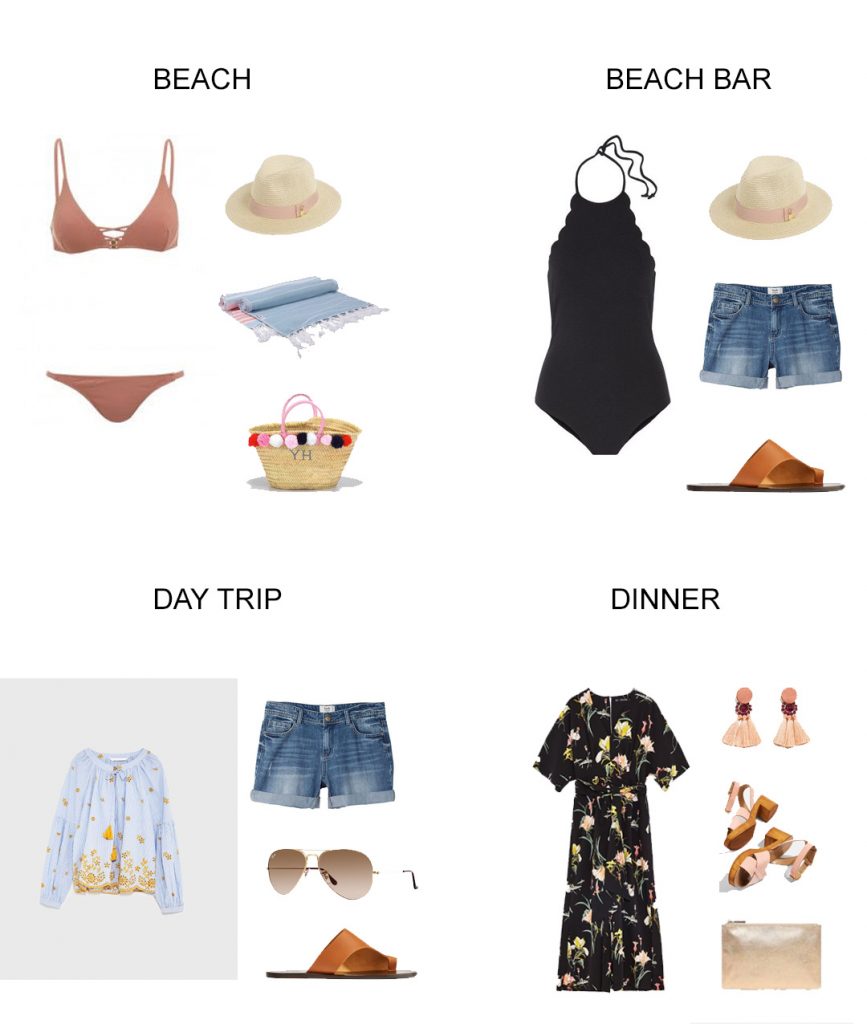 Use accessories like the statement earrings to really change how the outfit looks and feels. You could instantly dress up the linen shirt by adding bold accessories. Make-up is another excellent way of changing the overall look of an outfit – holidays are a great time to wear brighter lip colours.
I hope you like my first holiday capsule. I would love to hear from you what other capsules you would find inspiring. Let me know where you are heading off to for your holidays in the comments box below.

P.S. Need style inspiration? Download my FREE Define Your Style Guide here.

SaveSaveSaveSave
SaveSave
SaveSave
SaveSave
SaveSave
SaveSave