In the final installment of my "Pack Like a Pro" series, I am sharing with you my in-flight essentials. I don't really mind flying although the experience is massively different now that we have the kids with us. The priority is usually to get them settled in and hopefully on a longer flight they may just fall asleep.
To get me through a flight, I like to take my travel must-haves. These are mainly to help make the flight more comfortable and to make the overall experience more enjoyable, and we all want that. Here's a peek at what you might find in my carry-on: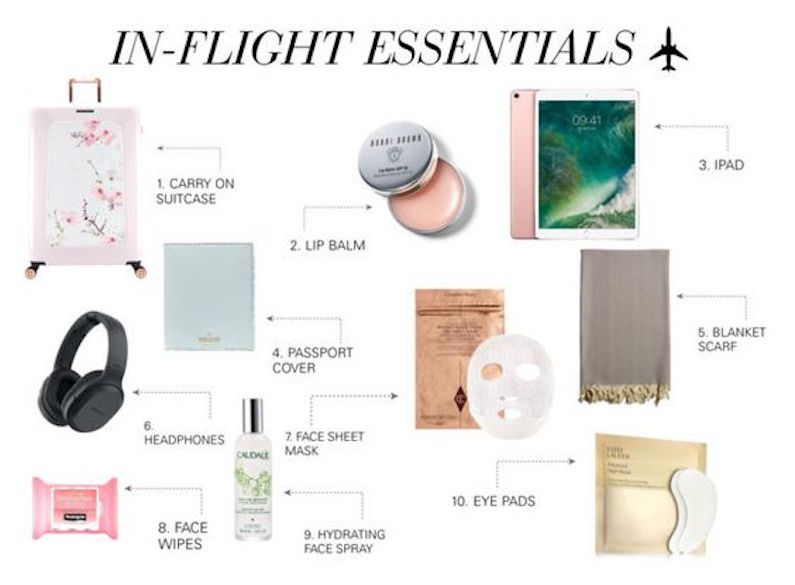 Carry-on suitcase – if I'm going on a trip for one week or less I like to just take a carry-on suitcase. I adore the rose gold and flower print detail of this one from Ted Baker.
Lip balm – my lips always get really dry on a flight so a necessity is a good hydrating lip balm.
IPAD – I have the Kindle app on my iPad, so I make sure I have a good book downloaded and also a couple of magazines. The book I am currently reading is "The Secret" and I love to read Allure and Glamour Magazine.
Passport cover – a nice passport cover helps protect your passport but also makes it look much prettier. Kate Spade have some nice ones.
Blanket Scarf – I always get really cold on a plane so I take a big blanket scarf with me which I can cover myself or the kids with. It also doubles up as a good pillow.
Headphones – noise cancelling headphones are good if you want to watch a film or listen to music in peace. They act effectively as a "do not disturb" sign.
Face sheet mask – air travel can really dry out your skin, so I try and do a hydrating mask when I get to my destination. I haven't yet braved wearing a sheet mask on the plane, I think I would terrify the kids and also the other passengers.
Face wipes – useful for removing make-up and for refreshing your face and neck after a long flight.
Hydrating face spray – a hydrating facial spray feels amazing when your skin feels dry. The smell is also soothing.
Eye pads – great for reducing puffy, tired eyes.
If you missed my Pack Like a PRO post then you can view it again here.
If you are going on your holiday this week then have a fabulous time!


SaveSave
SaveSave
SaveSave