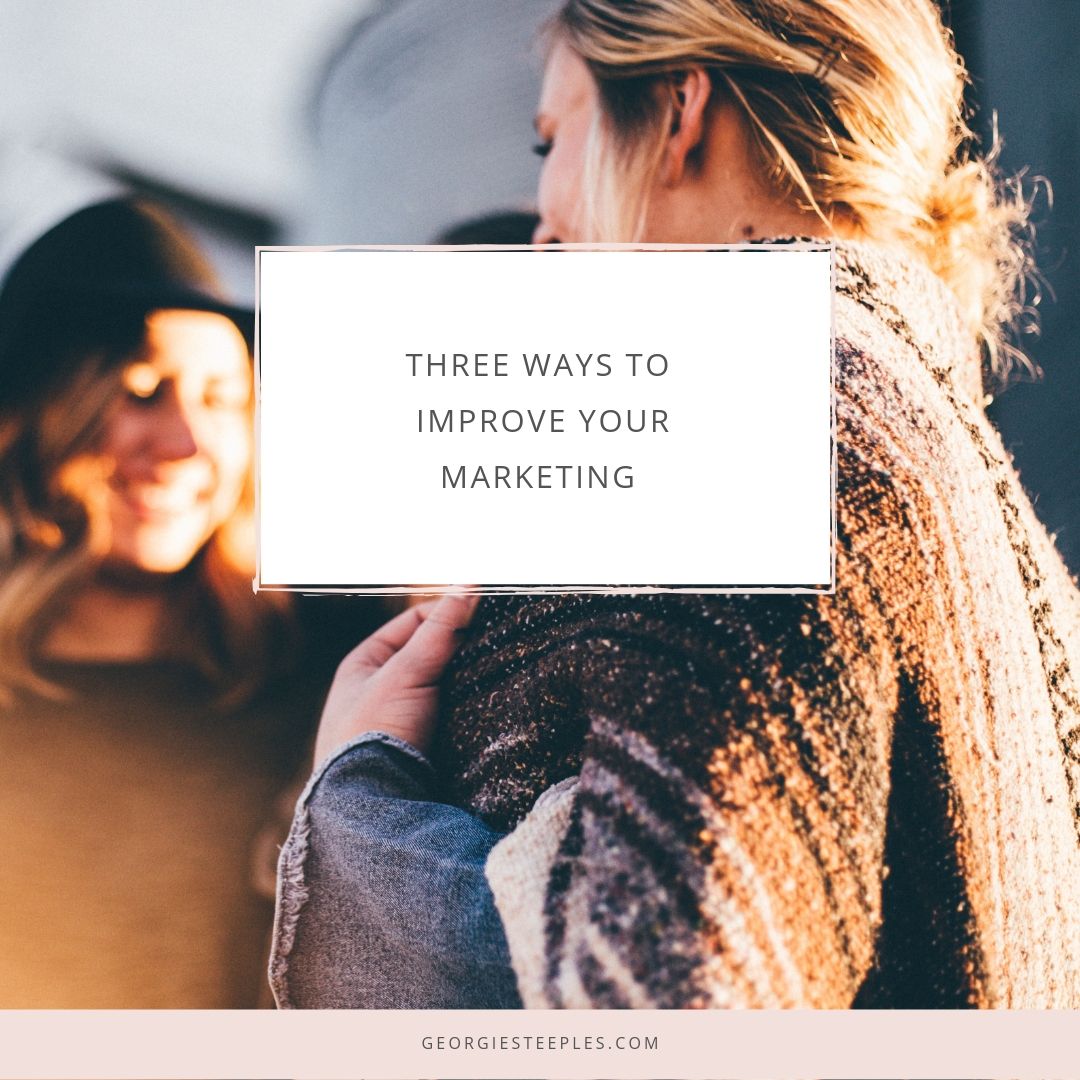 The online space is truly an amazing way to create awareness of your brand through the use of social media and email marketing, however, if done badly it can feel very spammy and impersonal.
I think we've all experienced being marketed and sold to in a way that instantly makes us recoil and avoid that particular brand. And on the flip side I think we've all experienced the opposite, where we have an amazing experience and become raving fans.
When we think of the positive experiences we have had with brands, it usually comes down to how they made us feel. We in some way felt a connection to them.
As human beings we crave real connection and therefore it's important that we treat our audience as real people and not just numbers. Having a big audience is meaningless if they don't feel a connection to you. That's why I believe in focusing on having a small and mighty audience, that are your brand advocates.
I want to share three ways you can improve your marketing to build a real connection with your audience.
Understand your audience
You want your marketing to resonate with the people who are reading it, your ideal clients. In order to achieve this you need to know what their struggles are, what problems they are facing as well as their hopes, dreams and aspirations.
The only way to find out this information is by doing market research. This cannot be based on assumptions. You need to listen to what your ideal clients are saying – you can find this out in FB Groups, on forums, in book reviews on Amazon, in the comments section of blog posts and from them directly by using surveys and having conversations. I like to use the free tool Typeform for professional looking surveys.
It is important to use the actual language that your ideal clients use in your marketing as this will speak directly to them and help to build that connection.
Be a human
Bots and automations can be great for growing your business, but only when they support real human connection. Nothing beats real connection. This could be as simple as responding to comments on your posts or taking it a step further by actually reaching out to individuals with direct messages, invitations for coffee chats or something which is so personal, video and voice messages. You can create video messages with an amazing app called Bonjoro which has a free feature.
Now it's important that these messages aren't about you, it's about them, the person you are sending it too. Do not use it as a way to sell your stuff. It should only be used to build relationships.
Create an amazing journey
Do you know the journey you are taking your audience on from when they first come across your brand to when they become a paying client? This journey should be an intentional part of your strategy and is so important when it comes to building a small and mighty audience.
I have worked with customer journeys for the last 18+ years in my corporate sales and marketing roles and also in the work I do with my own clients. They are such an important part of understanding how to make your marketing work for you AND your ideal clients.
Based on this experience, I have created a simple five step marketing system, that encompasses the different stages of the customer journey.
ATTRACT – ENGAGE – NURTURE – CAPTIVATE – PARTNER
You may have heard the term 'build the know, like and trust factor' and this is achieved through this simple five step system. Because it's primary focus is relationship building BEFORE ever asking for the sale. It's sharing your message with those who need to hear it and offering valuable content that demonstrates your expertise. When you do this, you will never have to worry about marketing and sales feeling sleazy, in fact it will feel the opposite.
Attract: Where and how will prospects first discover you? What content will you share?
Engage: What next step do you want them to take? Sign up for a freebie? Join your FB Group?
Nurture: How will you build a deeper relationship with your audience?
Captivate: What will you offer as a solution for your ideal client? How can they work with you?
Partner: Create a world-class experience for your clients so that they become raving fans
Focus on these three areas in your marketing and you will stand head and shoulders above those that aren't doing this in their business.